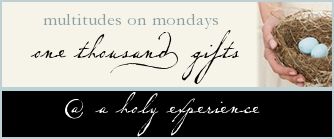 Continuing to count...consciously looking for things to be thankful for. So much to count, but so easy to forget in the emotions of life. The difficult times, the times where I just want to rant & the times where I just can't stop what is coming out of my mouth.
Be joyful always; pray continually; give thanks in all circumstances, for this is God's will for you in Christ Jesus. 1 Thessalonians 5:16-18
This is what I'm doing. I'm looking for the good. It's there--I just have to look. And look HARD some days! :)
6. Reservations made, plans forming, lists to check...something to look forward to!
7. Technology that keeps us *close*
8. Rain on the window & pajamas on girlies
9. Little Bit singing
This Little Light of Mine
{don't let
Kay-ton
blow it out!}
10. Getting up every morning and trying to do better
11. Sound of Big Stuff reading & loving it...this momma's prayer answered
Won't you count with me? Beat me to 1,000! I dare you! :)